Hasedera Temple (長谷寺) in Kamakura has seasonal flowers that are constant all year round.

More than 2,500 hydrangea plants of 40 species are planted in Hasedera Temple, and it is also known as a "flower temple" where flowers of various seasons bloom.

Speaking of Hasedera Temple, it is a scenic walking path. It is a famous place for hydrangea.
The landscape of colorful hydrangea in purple, blue and white is a sight to see!


What is Hasedera Temple?
Hasedera Temple is a flower temple where you can enjoy seasonal plants.

It is known as one of Kamakura's most famous hydrangea sites, and you can enjoy the hydrangea flowers while watching the sea of Yuigahama on the view walkway where about 40 types and 2500 strains are clustered.

It is also a famous spot for autumn colors, and you can also see the fantastic autumn colors that have been lit up at the special nighttime viewing that will be held from late November.


What are the highlights of Hydrangea in Hasedera Temple?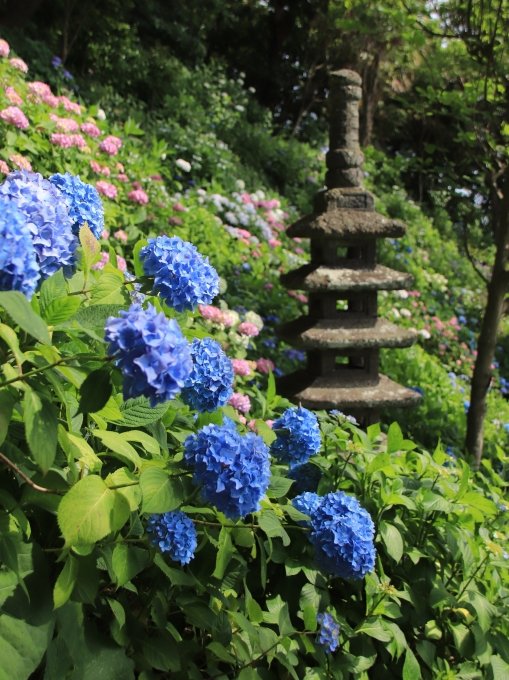 Meigetsuin, Seijuin, and Hasedera Temple are the three most famous hydrangea spots in Kamakura.
The hydrangea of Hasedera Temple is characterized by many varieties, and more than 2,500 hydrangea plants of 40 species are planted.

It is popular that you will not get tired of looking at each hydrangea one by one, and the flowers that shine brightly on sunny days and raindrops on rainy days create stunning beauty.


Best time to see
The flowering period of hydrangea at Hase-dera is from early June to early July.
When it comes to flowering on a normal level, early blooming will begin to color from early June, and you can enjoy it until the beginning of July after the peak season.
If you come on a holiday when hydrangea is in full bloom, morning is a must.
Because, the average waiting time during the peak season when hydrangea is at its best is about 45 to 90 minutes.
Please allow 60 minutes to wait.


How to access
About 5 minutes on foot from the bus from "Kamakura Station" on the JR Yokosuka Line → get off at "Hase Kannon"
Or about 5 minutes walk from Enoshima Electric Railway "Hase Station"
■ Hasedera Temple (長谷寺)
adress: 3-11-2 Hase, Kamakura City, Kanagawa
【March-September】open: 8:00 close: 17:30 (last reception 17:00)
【October-February】open: 8:00 close: 17:00 (last reception 16:30)
closed:Thursday

A must-visit place if you travel around Kanagawa!
Let's stay in Kamakura! Click here for the best hotels ⇒
Kamakura hotels
Alcoholic beverage Animal Anime Anime pilgrimage April Architecture Beverage Capital Area Cherry blossom Drink Festival Flower game Hokkaido Hokuriku Huge structure Izakaya Japanese bar Japanese culture JR Kansai Kumamoto Local ramen May Mountain Nature Night view Onsen Osaka Red Shopping Shrine Spring Station Summer Superb view Sushi Susukino Temple Tohoku Tokai Tokyo train Tuna Winter