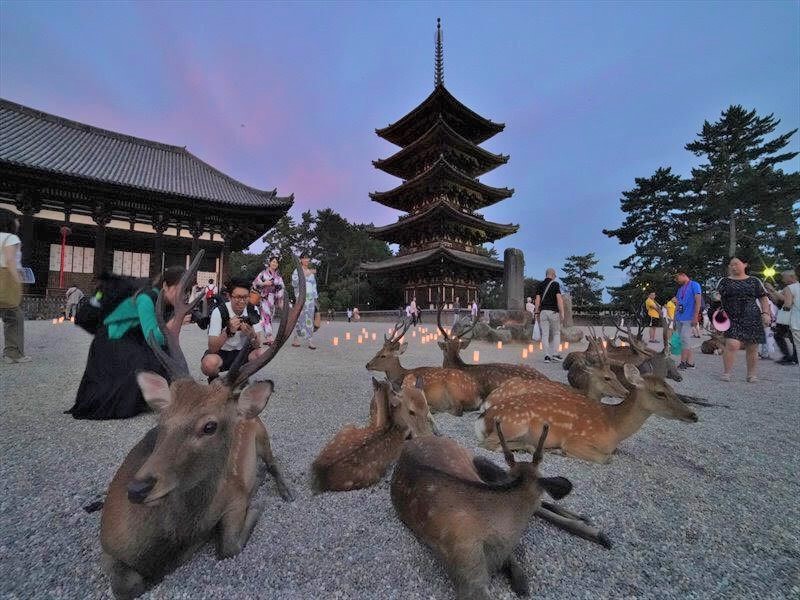 The deer is famous as a symbol of Nara Park (奈良公園).
Do you know why there are so many deers in Nara Park?
Here, we will guide you about the deer in Nara Park that everyone visiting Nara should know.


Why are there so many deer in Nara Park?
Part of Nara Park is the precincts of Kasuga Taisha Shrine (春日大社).
Since there is a legend that a god enshrined in Kasuga Taisha Shrine came from Kashima Shrine (Ibaraki Prefecture) on a white deer, deer have been carefully protected since ancient times as God's messenger.
Even now, Nara deer are carefully protected as a natural monument.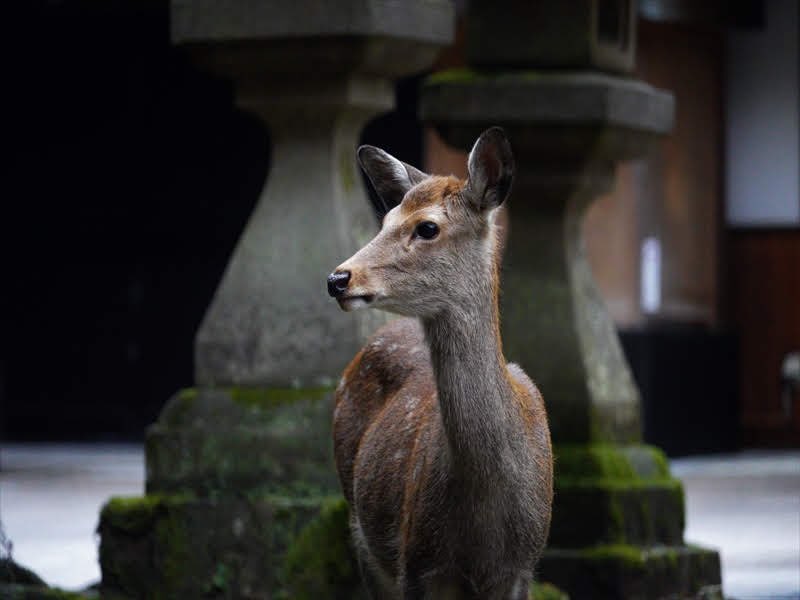 When did the deer live in Nara Park?
The poem of the deer of Nara is sung in "Manyoshu (万葉集)", which was compiled from the latter half of the 7th century to the latter half of the 8th century.
Since that time, there were already deer in Nara!


Do Nara deer bow?
Deer in Nara sometimes show the behavior of "bows".
When do deer in Nara bow down?
Roughly speaking, the best time to see the "bow" is "when you are carrying a deer senbei (rice crackers for feeding the deer) around the deer" or "when you give a deer senbei".
At such times, the deer in front of you often moves your head up and down.
From a human perspective, the scene looks like a bow.
Deer bowing is not a common feature of deer in the world.
Only the "Nara deer" bows so often.
In other words, "Nara's deer bow" may be said to be the behavioral characteristic peculiar to "Nara's deer", which has an unusual environment in which it lives in harmony with humans.
Why did the deer start bowing?
Actually, it doesn't seem that he wanted food at first.
People of the 7th century greeted deer as messengers of God when they met the deer.
This is followed by the theory that the deer also learned the habit of bowing.
Perhaps it turned into a kind of "communication" with humans, which is quite rare as a wild animal.


Finally
Nara deer are deer living near humans, which is rare in Japan. In order for deer and humans to stay together forever, consideration by humans is essential.
To protect deer in Nara, please do not give food other than deer rice crackers.
In addition, be careful not to swallow garbage such as plastic bags, as it may be fatal to the deer.
If you come to Nara, let's have fun playing with deer.
A must-visit place if you travel around Nara!
Let's stay in Nara! Click here for the best hotels ⇒
Hotels
Alcoholic beverage Animal Anime Anime pilgrimage April Architecture Beverage Capital Area Cherry blossom Drink Festival Flower game Hokkaido Hokuriku Huge structure Izakaya Japanese bar Japanese culture JR Kansai Kumamoto Local ramen May Mountain Nature Night view Onsen Osaka Red Shopping Shrine Spring Station Summer Superb view Sushi Susukino Temple Tohoku Tokai Tokyo train Tuna Winter