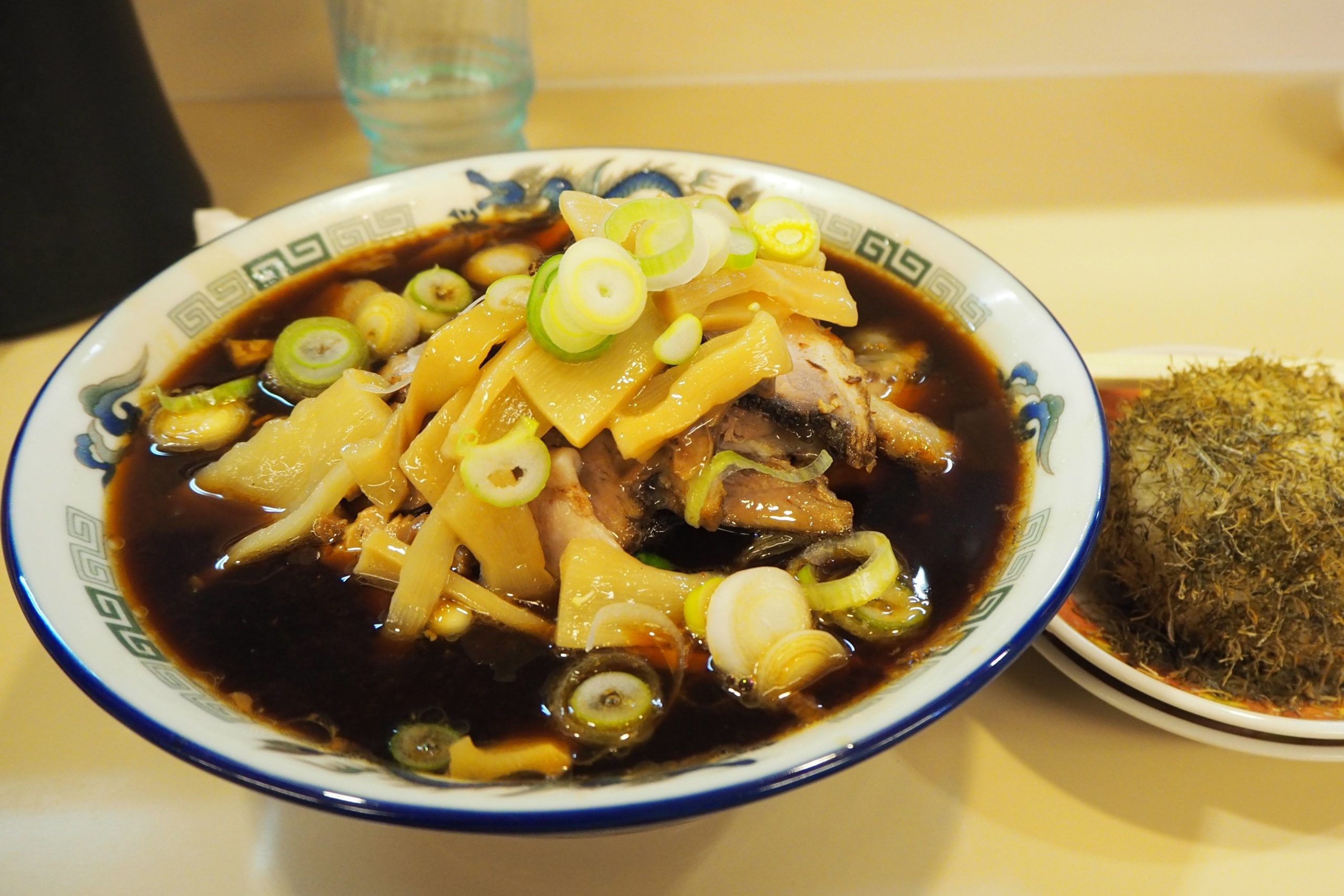 "Toyama Black" is a black soup based on soy sauce, which is attracting attention as a ramen with a great impact in terms of taste and appearance.

Around 1955, it was originally made from soy sauce-rich soup ramen as a salt supplement for sweating manual laborers in the center of Toyama City.
The characteristic ramen that leaves a strong impact is called "black" by the locals.
This article recommend the top 3 "Toyama Black".

Recommended Toyama black Top3

1. Nishicho-taiki (西町大喜)
A long-established store founded in 1947.
The original "Toyama Black" ramen shop.
The original appearance of the original black ramen is still being protected.
The regulars of the store order ramen and rice as usual.

There are 4 stores in Toyama city. Toyama Marche store is recommended near the station
■
Nishicho-taiki (西町大喜)
adress: 1-220 Meiwa-cho, Toyama City, Toyama
open: 10:00 close: 21:30
closed: no holiday

2. Menya-Iroha (麵家 いろは)
Speaking of Toyama Black Ramen, this store may be the most famous.
As you know, Toyama Black Ramen is characterized by its high salt content, and it is extremely salty to the average person, but "Iroha" Black keeps the salt concentration "moderate".
It is also recommended for those who care about salt content.
■
Menya-Iroha (麵家 いろは)
adress: 1-2-3 Shintomicho Toyama City, Toyama
open: 11:00 close: 26:00
closed: irregular holidays

3. Kihachi (喜八)
A disciple's shop that trained under "Nishicho-taiki (西町大喜)" the famous originator of Toyama Black.
The origin of orthodox black ramen is succeeded to this day.
Kihachi's ramen soup is based on a secret aged soy sauce that has been carefully aged for over a month.

The store owner's policy is to offer "Toyama Black" that matches the times, while preserving the taste of the orthodox school. You can also compare it with the original "Nishicho-taiki (西町大喜)".
■
Kihachi (喜八)
adress: 6-3 Okudakotobukicho Toyama City, Toyama
open: 11:00 close: 14:30
closed: irregular holidays

Finally
How was it, everyone?
This time, we introduced the recommended Toyama Black shops.
Toyama Black has the common features of dark soup color and saltiness, but the feature of the soup and noodles is that the owner's attention is strong.
Ramen lovers, when you come to Toyama, try eating Toyama Black and compare it to find the perfect taste.