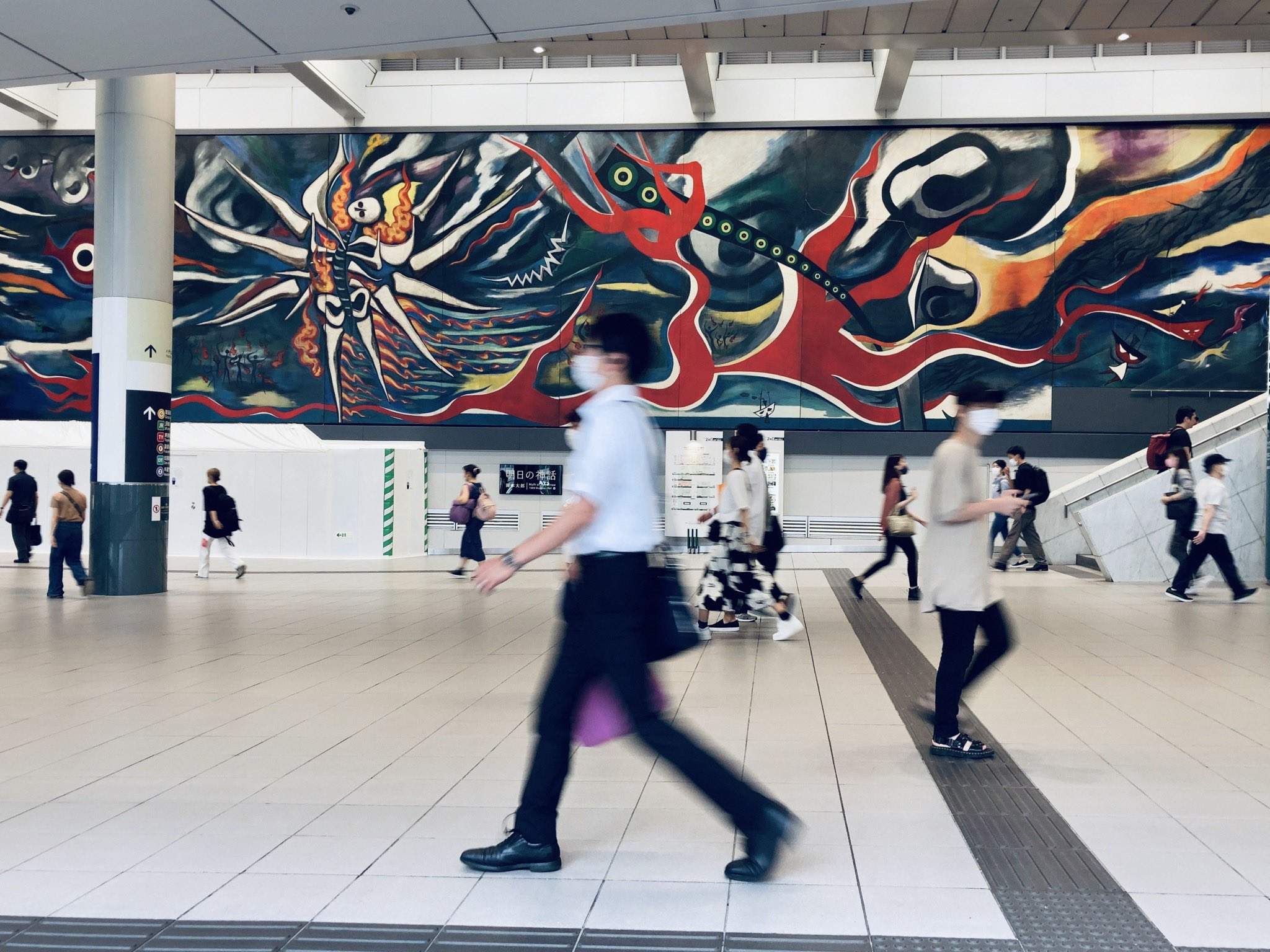 Let's thoroughly appreciate "Myth of Tomorrow" (Taro Okamoto) at Shibuya Station in Tokyo.
Why don't you stop at Shibuya Station and confront the painting and think about your past and future?


A strange transition and reproduction of "Myth of Tomorrow"
"Myth of Tomorrow" is said to be one of his best masterpieces.
It was created at the same time as the "the Tower of the Sun" created by Taro Okamoto for the 1970 Osaka Expo.
It is exhibited at the connecting passage (in Mark City) that connects JR Shibuya Station and Keio Inokashira Line Shibuya Station.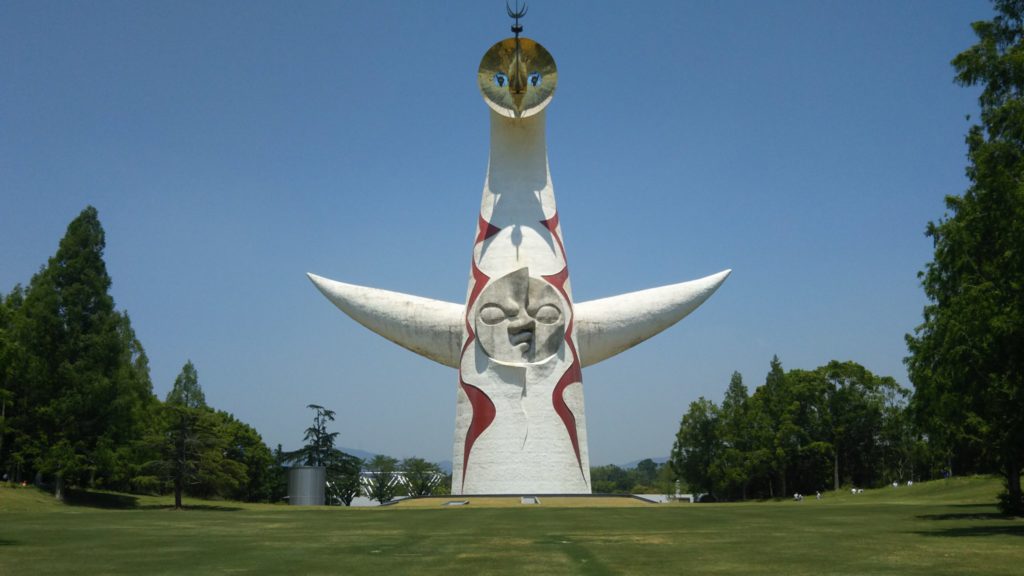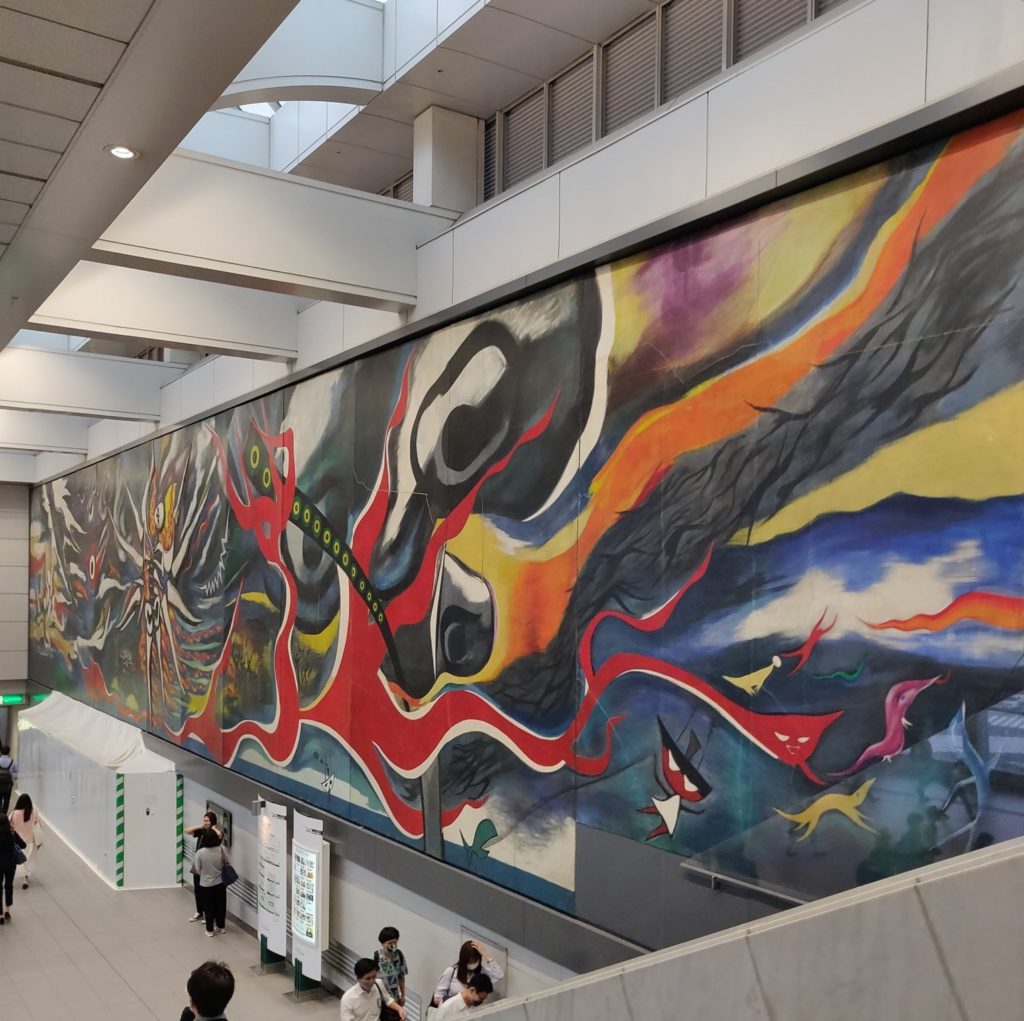 It is 30 meters long and 5.5 meters high.
It's a magnificent painting, but not many people stop and watch it.
This "Tomorrow's Myth" was a work that was made between 1968 and 1969 at the request of a hotel under construction in Mexico, but because the management situation of the client deteriorated, the hotel was left unfinished. It was. The delivered works are also missing.
As time passed, in 2003, "Myth of Tomorrow" was discovered, which was stored in a material storage area in the suburbs of Mexico City.
Toshiko Okamoto, a long-time partner of Taro Okamoto, started a project to restore the painting, and the restoration was completed in 2006 with the support of volunteers from various fields and fund-raising activities.
It was permanently installed in Shibuya in November 2008.

This painting depicts the moment when the atomic bomb exploded.
At the center of the explosion is a skeleton and flame motif.
It seems that Taro Okamoto has visited Mexico many times to make this painting.
At Mexican festivals, it is customary to decorate skeletons, and this dreadful motif says that death and life are side by side.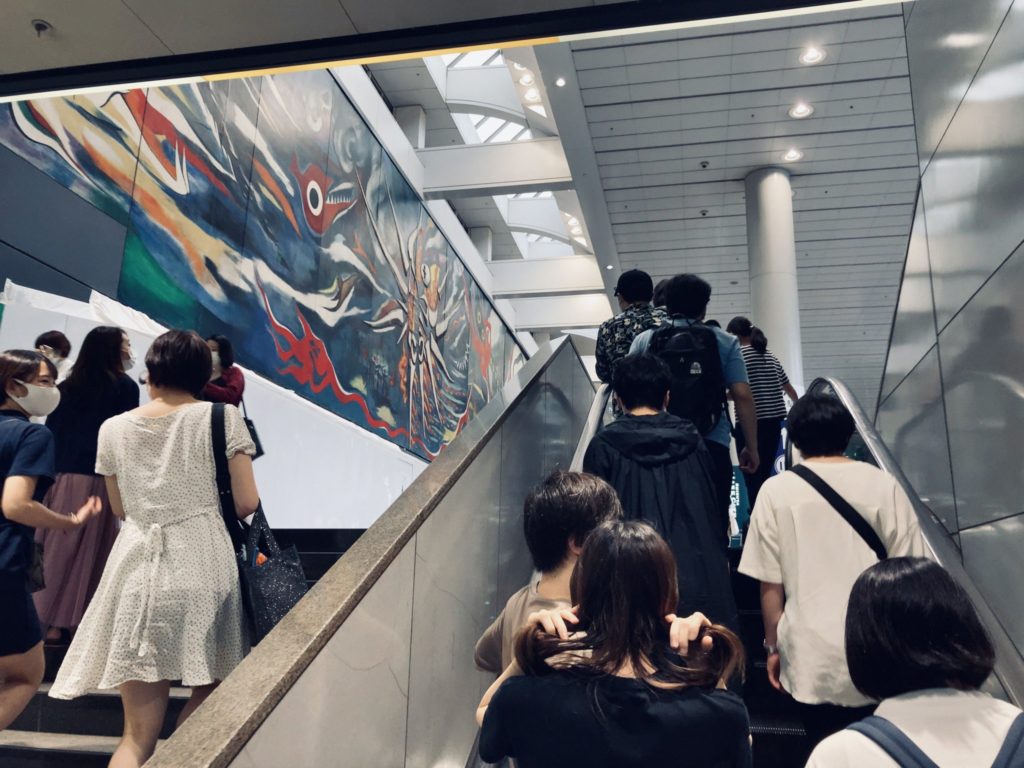 Access
■"Myth of Tomorrow"『明日の神話』
adress: 1, Dogenzaka, Shibuya-ku, Tokyo Connection passage in Mark City
open: 10:00 close: 21:00
the nearest sta: Shibuya Sta. (JR Yamanote Line and Keio Inokashira Line)

When you pass Shibuya Station, why not look at "Myth of Tomorrow" and think about art and the future?

Alcoholic beverage Animal Anime Anime pilgrimage April Architecture Beverage Capital Area Cherry blossom Drink Festival Flower game Hokkaido Hokuriku Huge structure Izakaya Japanese bar Japanese culture JR Kansai Kumamoto Local ramen May Mountain Nature Night view Onsen Osaka Red Shopping Shrine Spring Station Summer Superb view Sushi Susukino Temple Tohoku Tokai Tokyo train Tuna Winter