When driving a car, have you ever seen a sign that warns against sudden jumps of children?
There is a sign to be careful in Japan.
His name is "Tobidashi-boya (Jumping out Boy)".

This article will focus on him!


Overview
From around the 1955's, when it was called the traffic war, signboards that urge drivers to warn their attention began to be made in various parts of Japan.
Some of the motifs were of children gradually jumping out onto the road.
At first, there were many things that only drew a picture of a child on the board, but later, a type that hollowed out the board in the shape of a child was born, and that became the mainstream.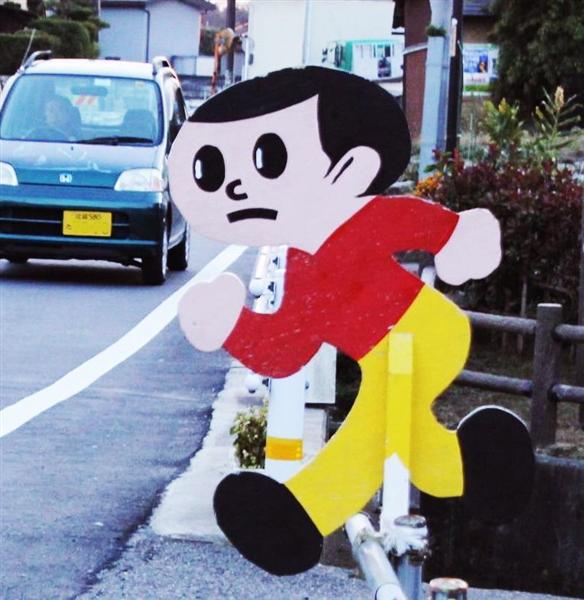 Design
There are many designs and colors that are easy to see.
There are hand-made items and ready-made items sold at home centers.
One of the attractions is that there are various designs depending on the region and age.
Characters of cartoons and anime that are popular with children are often drawn, and some of them may cause copyright problems.
There is also a local design that is based on the characteristics of the area, and there is a movement to utilize it not only for preventing traffic accidents but also for revitalizing the town.
Most are designed for boys, but there are also designs for girls and the elderly.
Some pop-out boys also have a photo on their face.
Many people take photography as a hobby because of its many variations and uniqueness.


Shiga is "Tobidashi-boya" mecca !?
At present, there are many parts of Japan from the Tohoku region to Kyushu, but there are many in the Kinki region, and the number installed in Shiga prefecture is said to be the largest in Japan.
In June 1973, a local signboard manufacturing company, "Kuda Craft," produced 11 boy-shaped and girl-shaped pop-up dolls, and made them in Higashi-Omi city based on the idea of the Shiga Prefecture Yokaichi City Council of Social Welfare. It is said that it was installed.
With the growing interest in "Tobidashi-boya (Jumping out Boy)", goods and stationery are also made in Shiga prefecture.